🔍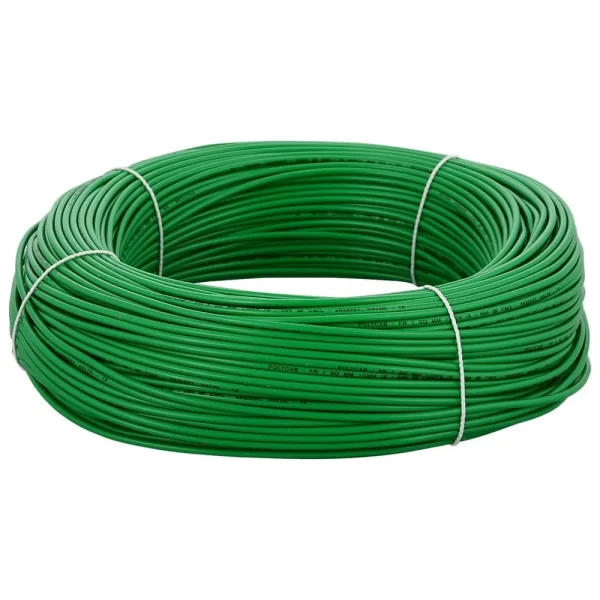 1 mm² Solid CU/PVC 300/500 V Earthing Cable
₨ 3,050
BS 6004 & BS EN 50525 & BS EN 60228 compliant premium high quality electric cable coil commonly used for earthing purpose in general house and office wiring.
Product Details for 1 mm² Solid CU/PVC 300/500 V Earthing Cable
1 mm² solid cable or 1 mmsq solid cable is standard BS 6004 & BS EN 50525 & BS EN 60228 compliant electric cable used for earthing in houses, offices and commercial buildings. You may not want to compromise on the quality of this cable as this cable protects you from electric shocks.
This is where Unicore Cables can help you. 1 mm² solid cable from Unicore Cables is manufactured with standard high quality and occasionally tested by PCSIR and UET laboratories in addition to the routine in-house tests. Our production staff is careful and highly experienced and sufficiently capable to ensure the application of quality procedures during the manufacturing of the cable.
The use of 99% pure high quality properly drawn and annealed copper conductor in electric cables by Unicore Cables ensures very low electric resistance and makes sure that the current flows in the wires without creating much heat. Twisted strands in our manufactured cables offer best electrical characteristics and reduce the chances of short circuit to very low.
1 mm² solid cable consists of solid class-1 conductor and cannot be twisted as there is only one strand of copper. For all other copper class-2, class-5, class-6 conductors, we do the twisting to ensure the cable exhibits the safest experience.
1 mm² solid cable is insulated with PVC material. PVC insulated electric wires are widely used in Pakistan with the advantages of excellent electric properties, ability to resist short circuit, very long service life of 20 years or more, easy to install, operate and maintain, etc. This wire is mainly suitable for earthing.
What's in the box?
The packing contains 1 coil of 1 mm² solid Cable of 90 meters length of your specified color. The coil is properly packed in card board box and properly wrapped with heat shrink wrap to minimize any damage to the box caused by mishandling in transport.
Additional Information
| | |
| --- | --- |
| Brand Name | Unicore Cables |
| Cable Identification Stamp | 1 MM² S/C SOLID CU/PVC 300/500 V ELECTRIC CABLE |
| Cable Type | Earthing Cable |
| Cores | Single Core (Multi Core Available on Demand) |
| Standard Weight | 1.36 Kg |
| Colors | Green (Other Colors Available on Demand) |
| Standard Packing Length | 90 meters (Custom Packing Available) |
| Conductor Class | Solid Class-1 (Single Strand Copper Conductor) |
| Cable Life | Usually 20 Years or more |
| Application | Earthing, in house, office, commercial or industrial wiring. |
| Cable Shape | Round (or Flat in 2 Core Cables) |
| Country of Origin | Pakistan |
| No. of Strands | 1 |
| Single Strand Diameter | 1.13 mm |
| Conductor Type | Copper |
| Conductor Purity | 99% |
| Insulation Type | PVC (Polyvinyl Chloride) |
| Insulation Thickness | 0.70 mm |
| Standard Cable Diameter | 2.20 mm to 2.70 mm |
| Applicable Standard(s) | BS EN 60228 & BS EN 50525 (BS 6004) |
| Temperature Rating | -20° C to 70° C |
| DC Resistance | 18.10 OHM/KM at 20° C |
| Voltage Rating | 300/500 V |
| Ampere Rating | 9 Amps (estimated, may differ significantly according to circumstances) |